Chop! Chop! Culinary Skills for Wisconsin-grown Produce in School Meals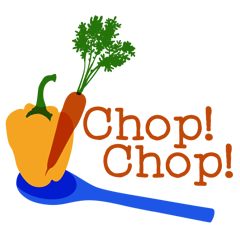 Welcome to the home of the Chop! Chop! culinary skills training video series. These free training videos will help you and your school food service staff use more fresh, Wisconsin-grown fruits and vegetables—and whole grains—in your school meal program by introducing new foods, recipes and culinary skills. View all six videos below, along with support resources and recipes for your school lunch programs. These training videos are a joint project of CESA Nutrition Purchasing, the Center for Integrated Agricultural Systems and Team Nutrition of the Wisconsin Department of Public Instruction.
Professional Development & Continuing Education Credits
These videos count toward both USDA professional development credits. Please complete the short evaluation form after watching each video. Links to the evaluation forms are below.
Leafy Greens Evaluation
Cabbage, Broccoli and Cauliflower Slaw Evaluation
Roasted Root Vegetable Evaluation
Winter Squash Puree Evaluation
Tomato and Pepper Ratatouille Evaluation
Whole Grains Evaluation
USDA Professional Development Credits: Please complete the short evaluation survey, and then record the video name, video length, and date viewed when logging the training toward your USDA professional development credits. All videos meet learning objective code 2130 – Develop culinary skills necessary for school meal preparation. You will log and report your own hours for the USDA credits. The videos count minute for minute when logging training time. You can log and combine minutes from all six videos, or watch videos a la carte, when obtaining USDA professional development credits.
Thank You To:
This project exists thanks to the support of many dedicated individuals and organizations across Wisconsin's farm to school, local food, school nutrition, farming and arts communities. We would like to especially thank Terese Allen, Susan Peterman, Kymm Mutch, Sarah Elliott, Sarah Lloyd, Wisconsin Food Hub Cooperative, Cris Carusi, Lisa Stahl, Tom Martin, Calen Albert, Daniella Echeverria, Honeybee Studio, Vermont Valley Community Farm, High Meadow Farm CSA, Ledgeview Gardens, Apple Blossom Orchard and Market, Amazing Grace Family Farm, Regenerative Roots, Peter Mulvey, Wisconsin Public Television, Jim Degan, Peggy West, Michelle Denk, Erin Heim, Barb Waara, Middleton Cross Plains School District, and Amy Yungbluth.
The Chop! Chop! Culinary Skills Videos are a collaborative project of the UW-Madison Center for Integrated Agricultural Systems, CESA Purchasing Nutrition Program and Wisconsin Department of Public Instruction Team Nutrition. For questions, or to show these videos at your trainings, contact Vanessa Herald at UW-Madison CIAS: vherald@wisc.edu | 608-263-6064
This project was supported by the Specialty Crop Block Grant Program at the U.S. Department of Agriculture through grant 12-25-B01706. Its contents are solely the responsibility of the authors and do not necessarily represent the official views of the USDA.