Extension hosts the Edible Startup Summit for food business entrepreneurs from across the state as they start or grow their businesses. The two-day event covers everything from food production to marketing along with the opportunity to network and learn from others.
Josey Chu and Kristy McKenzie are just two of the many food producers who say the Edible Startup Summit was important as they launched their businesses.
Madame Chu – Handcrafted Southeast Asian Delicacies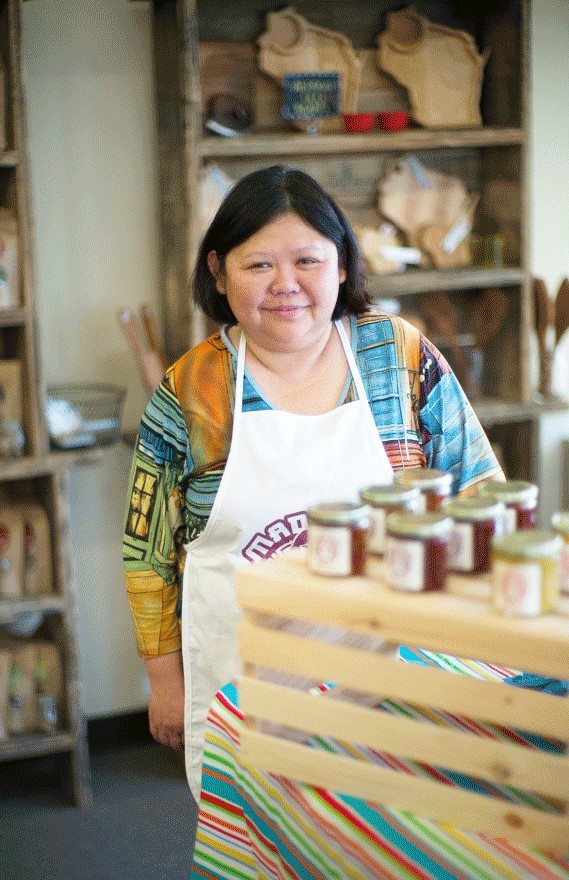 When Josey Chu and her husband Ben Johnson gathered with friends at church or events in the community, she would bring her homemade Sambal to pair with her favorite Singaporean dishes. The Sambal was a hit and friends were asking if they could buy her Sambal. However, without a food license, the best Josey could do was send her Sambal home with them.
When Josey's mother passed away, she only wanted her mother's cookbooks. Much to her surprised, Josey's mother kept her grandmother's handwritten recipes in several of the cookbooks. Ben took an interest in deciphering her grandmother's handwriting, experimented and taste tested the recipes with measurements that represented her grandmother's style. "Rather than using standard measurement, grandma's measurement was "one bowl of water", "one kati of chicken", "some ginger" Josey said.
For their Sambal Nyonya, the couple experimented until they perfected the recipes. They now market three condiments under the brand name Madame Chu.
But the real work of sharing their products with the people of Madison had just started.
Scaling up
Without the means to rent space and outfit a professional kitchen, Josey and Ben began working with FEED Kitchens where they can rent kitchen space by the hour. They received assistance with product development as they learned how to scale up and adapt their recipes for larger quantities. They also received guidance from the Wisconsin Department of Agriculture, Trade and Consumer Protection (DATCP) and registered the business in 2017.
"I learned about the Edible Startup Summit because I was in the right place at the right time," Josey said. She was working at FEED Kitchens, she met Sharon Lezberg, a Dane County Community Development Educator for UW-Madison Division of Extension. Sharon mentioned the Edible Startup Summit would be a good event for new startups. Josey has attended the annual event ever since.
"The first year I attended, I met all the different DATCP people who helped me learn about licensing and product development," Josey said. "And it was wonderful to be able to talk to others business start-ups and to learn how they got started."
The Edible Startup Summit was exactly Josey needed to take the next steps in starting her business.
"The second year was really fantastic. I attended a session about distribution and all the associated costs," Josey said. "We learned about the advantages and disadvantages and received a booklet that had a wealth of information about using a distributor."
It's about helping others
Josey is quick to note that this event is not just for people getting started. As her business evolves, she learns something new every year.
In the November 2020 Edible Startup Summit, Josey was one of the flash speakers. "I want to pay it forward," Josey said. "I want to share what I've learned from previous speakers and from my own experience. I truly believe the Edible Startup Summit brings together the food and beverage community from Wisconsin. It builds camaraderie, community and a wealth of knowledge."
"Everyone is an expert in their own field. When we come together, we harness, share and learn from each other's invaluable experiences – the good ones and the bad ones."
Pasture and Plenty
Christy McKenzie's path has led her to exactly where she was meant to be. But the owner of Pasture and Plenty acknowledges she couldn't have started here. Each of her experiences brought her one step closer to creating the food business she envisioned.
As a teenager McKenzie found her independence and creative voice through cooking. She considered going to culinary school but is grateful her parents steered her to a liberal arts education first. She studied rural sociology at UW-Madison with a focus on food systems and community development, as well as international studies including the politics of food.
Her education planted the seeds for owning a restaurant that plays a role in promoting local foods and supporting the regional community food system.
She moved to Seattle, where she nurtured these ideas as she worked catering jobs and managed a coffee shop. When she answered a job posting for a food lover with great attention to detail, it led to a 10-year stint with Allrecipes.com where she learned about everything from recipe editing and site production to sales and branding. She gained experience building trust with customers, advertisers and manufacturers. And when her job expanded to include work in 18 countries, she learned about consumer research and how to create a local food community online.
A new adventure
As her career moved her further into the business side of things, she never lost sight of her dream. Soon after she and her husband moved back to Madison after 10 years in Seattle, he surprised her with the gift of tickets to the Edible Startup Summit and encouraged her to explore making her dream a reality.
"The Edible Startup Summit was the first place I realized that my ideas could become something concrete—that I could make this work," McKenzie said.
"I learned about DATCP and what they do, I learned about the Wisconsin Economic Development Corporation and how they could support my infrastructure with funding. But I also got to connect with other entrepreneurs—with people in different stages of creating or growing their food business."
And she found inspiration from a speaker who was not a maker, food producer or restaurateur. Jamie Lamonde loved the food community and was the owner, editor and publisher of Edible Madison. What she said about amplifying the work of the local food community resonated with McKenzie.
She also met Cricket Redman who presented the topic of how to understand who you are as a business and how to build your brand.
A greater purpose
The speakers at the Edible Startup Summit led Christy to find her community. With a business concept beyond being a chef or caterer, she began to home in on her greater purpose of supporting the local food community. A greater purpose that has led to another creative endeavor. In 2020, McKenzie and Cricket Redman became the owners of Edible Madison.
Like Josey Chu, Christy McKenzie has paid it forward by speaking at the Edible Startup Summit about branding and how to express your brand across your space, events and packaging. In 2020 she was on a panel that discussed what it means to be a mission-driven business owner.
"Supportive community is critical for success, and Madison is very special for having such a strong local food system," McKenzie said. "The Summit is great for entrepreneurs to get over those mental hurdles. They see others doing it and know they can do it, too."
What to expect from the Edibile Startup Summit
The training program includes educational sessions, consulting and networking opportunities.
The Edible Startup Summit (ESS) sessions are taught by food business development experts and successful entrepreneurs. Ninety participants registered for the 2020 summit (held online during the pandemic) which drew on the knowledge of 60 presenters on topics including:
Food business trends
Food sources for purchasing
Social entrepreneurship and values-based business
Business planning and product pricing
Product development
Food safety for processors, shared-use kitchens and food carts
Online payment systems
Working with retailers
Scaling up
Customer relations
Marketing, distribution, brand strategy and social media
Additional regional sessions offered networking opportunities, entrepreneur panels, resources and marketing assistance.
Watch for information in fall of each year about the Summit.